you should have heard the squealing when we pulled this dress from the box!
i mean, just look at it! this amazing tulle dress is a little girl's dream come true! scout had quite a few ideas on how we should style this beautiful tutu dress for the photo shoot and since we couldn't decide on just one, she dressed up as cinderella, a flower girl, and a miniature bride!
+ miniature bride +
for this look, scout added the veil, necklace, and bouquet from my wedding (...tear...). she looks far more gorgeous than i did on my wedding day and i am positive that someday (like when she is 30!) she will make an incredibly beautiful bride!
(ps- this is same church where josh and i got married almost 10 years ago! awwww... )
+ cinderella +
to get the look as cinderella, we tossed the bouquet and veil, but kept the all important crown! and, of course, you must have the glass slippers!
+ flower girl +
and now for her final styling... scout removed all the fancy little touches and simply focused on her job of walking down the isle with the adorable ring bearer.
+ prince charming +
how about a round of applause for this adorable little model. eli is just the cutest little guy with so much personality! i love having these little cousins model together.
fun fact: eli's mom and scout's dad are cousins. years ago they were a flower girl and ring bearer in their aunt and uncle's wedding.... awwwww!
now i realize there are a lot of straight faces above, but we really do have a lot of fun at our photo shoots! :)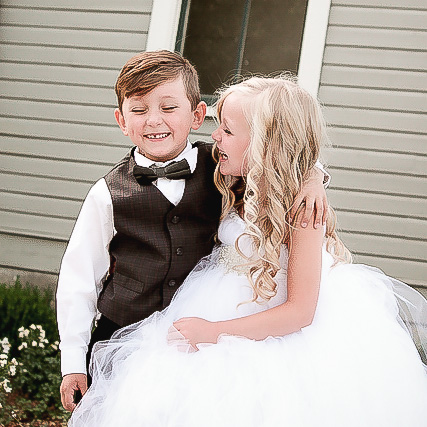 feeling like you *need* one of these dresses???
you can click here to shop at Grandma's Baby Place. all tutu dress are 10% with code "SCOUT" :)