+ SCOUT'S ROOM MAKEOVER +
"I WAS ANTICIPATING HAVING THINGS PERFECT AND THIS IS BEYOND PERFECT!"
You know that awesome feeling you get when you give the perfect gift to your child? The type that makes them beam with joy?
Well, it's pretty much the greatest. AND it's pretty much all I've seen on Scout's face since we started this bedroom makeover!
In August, Scout's big brother, Matty, moved out of his Halo themed bedroom and off to college at the University of Idaho. YAY MATTY! Once our oldest was out and settled in his dorm room, we decided it was finally time for the girls to have their own bedrooms. Honestly, it was kind of a stretch for me to split them up. I am one of those parents that thinks it's good for siblings to share a room and learn to work through some of the struggles you deal with when you're sharing a space. But… I was once a very organized big sister living in a tiny room with a very messy younger sister- so I could also understand how giving Scout her own space was kind of needed. Now she can keep her room just as tidy and perfect as she pleases, while Sailor has the freedom to express herself through creative messes. ;)
Let's talk about Beddy's bedding for a minute. I saw this brand on Shark Tank awhile back and I kept seeing friends posting about it on Instagram. I had been wanting to try it out for about a year, but wasn't sure I wanted to invest in new bedding for both girls. When we finally decided to move Scout up into the loft bed I knew that I wanted to make it as simple as possible for her to keep her bed made. Kids have a hard time making their beds anyway, but ask anyone who has ever tried to make a bunk while kneeling on it- it's not an easy job!
In one word, this bedding is AMAZING! It can not possibly get any easier than making a Beddy's bed! All of the bedding comes in one piece that simply slips onto the mattress like a fitted sheet! Inside is a super soft, minky blanket that Scout has described as "sleeping under a cloud". The top of the bedding zips off from either side and can be totally removed if desired. Scout likes to be snuggled in tight, so she zips herself into bed each night. And the real (unexpected) bonus: Beddy's keeps her safe while she sleeps! Scout is slightly afraid of rolling out and off of the bed at night, so she keeps the zipper closed on the outside edge of her Beddy's. Perfect! ;)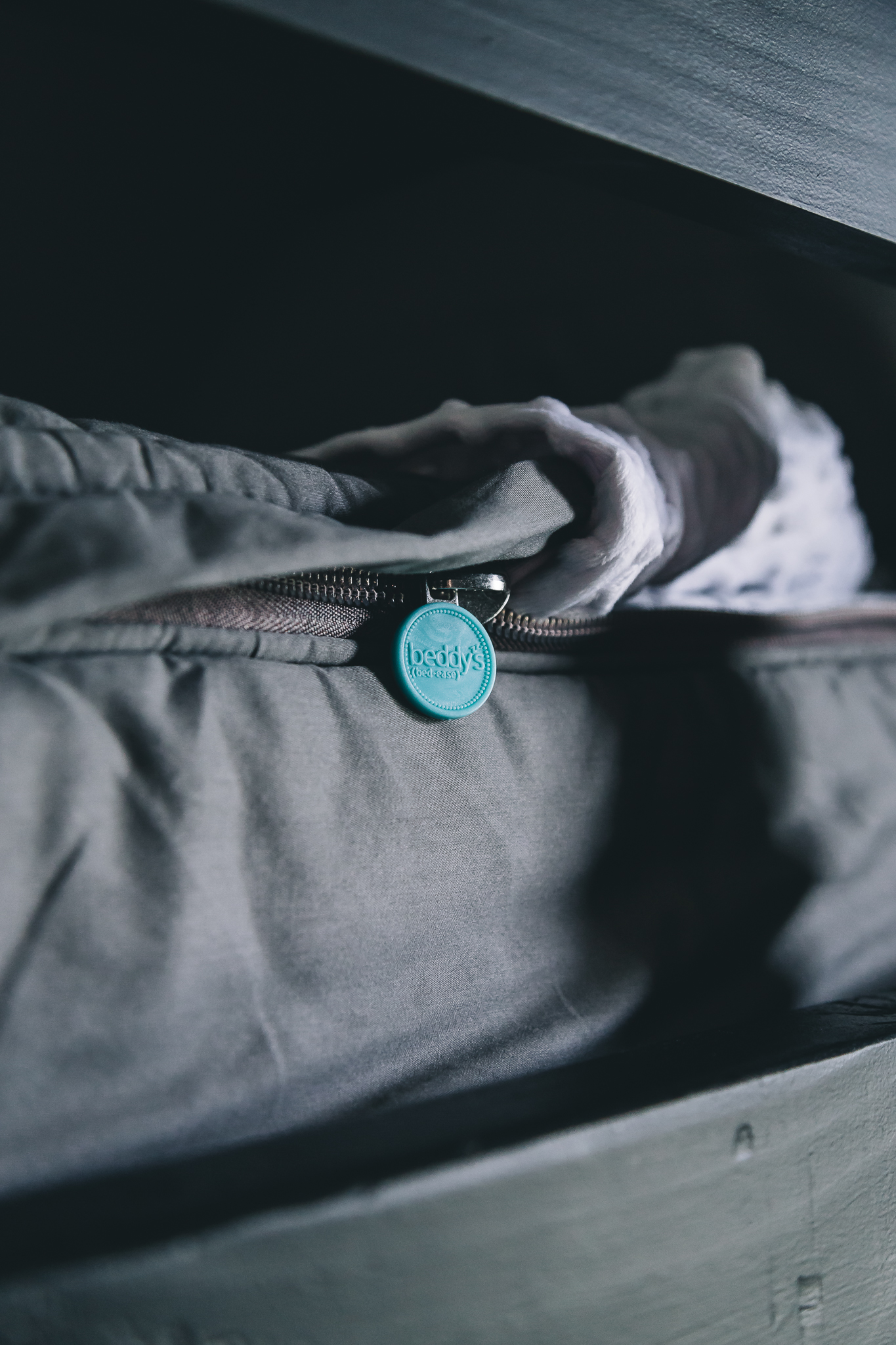 "This bedding is beyond amazing!"
BEFORE: When Matty was 7 years old we surprised him with a trip to Oregon to visit his great grandparents. While we were away, we hired our friends to come over and do our own version of Extreme Home Makeover on his room. They built him this rad "floating" loft bed, climbing rope, a built-in desk and painted custom Halo murals on his walls. He was so shocked and happy when we returned home from that vacation! I know I have the video somewhere… I think it's time to find that!
DURING: This is one of those "progress photos" I snapped as we were in the process of shopping for pillows and decorative items for Scout's new room. She definitely had a vision, but sometimes the stores just don't have exactly what you are picturing in your mind. Getting to the final product can take patience- and lots of trips to Ross and Target!
AFTER: The final product! A black, white, and gray room with pink and metallic accents were used to give Scout the chic tween bedroom of her dreams!
"MOM, YOU HAVE NO IDEA HOW HAPPY
I AM WITH THIS ROOM RIGHT NOW!"
Scroll to see the room evolve!
I am not sure who loves Scout's room more- her or her friends! Every time she has a friend over I find them reading or drawing in room. :)
Making her bed is as easy as ziiiiiiiip!
And, yes, I want Beddy's bedding for every bed in our house now!
Below are more before, during, and after shots of Scout's new room!
Scout and her daddy worked very hard to strip, sand, and paint these boxes for her room. They painted 2 of the boxes black and stacked them next to the desk to give her more places to hide her art supplies (remember- this is my organized child!). The others were painted white and now hold items that have been deemed "special, but not matching". LOL
Having your very own loft bed is perfect for a bookworm like Scout.
She actually asks for permission to go read in her bed… ummm… Yes, I guess so… ;)
Do I ever climb in there and just relax while catching up on social media?
Of course I do. It's so peaceful under those hanging lights!
Ok… Sorry Matty, but I had to show the REAL before and after pictures.
Not because I am trying to embarrass him (his room was totally destroyed for the few weeks leading up to his departure), but because it truly shows just how extreme this makeover is!
(And, yes, we also loved the room without the extra bed down below, but we need to keep an extra bed for when we have guests.)
How do you think we did?
Would you like your room to look like this?
Do you have Beddy's bedding?
Please leave a comment below or on our Instagram account! @browntowngirls